Submit Above for Rental Rate
OPTIONS IN THE CENTRAL BUSINESS DISTRICT (CBD) (DISTRICT 1, 2 AND 6)
Raffles Place Core Area – If you are looking for the Grade A office buildings which are undoubtedly the very best in the area, you will find them all in the Central Business District. The newly built Marina Bay Financial Centre and Raffles Place rank the highest in the area. Be it big law firms, head hunters, major financial institutions, banks or even multi-national companies, most bigwigs in the city prefer this area. Since this address adds a lot of prestige to any organization, people do not mind paying exorbitant office rent to get a space at these locations. Well-connected transportation facilities including MRT stations and several bus routes makes this area that much more desirable.
Shenton Way, Cecil Street, Robinson Road – If you don't mind stepping down a level to Grade B, these locations will serve your purpose. This area has quite a few buildings for those looking for an office for rent. The area had quite a few old office buildings that were torn down making place for redeveloped residential arrangements. The area is still quite desirable as advertising firms; financial brokerage recruitment firms, law firms and many others still rate it quite high. Again, transportation facilities are still as good as Grade A areas.
Tanjong Pagar – Though this area has quite a lot of old buildings, it is still considered to be one of the more significant areas owing to the many shipping firms in the area. Since the port is still very close to this area, office space is still quite valuable in this Central Business District. The area still has quite a few buildings that still rate Grade A apart from several residential projects coming up in the area. The Clift, Lumiere and The Icon are a few of these projects worth mentioning. With the government undertaking a major revamp of the area, Tanjong Pagar is touted to be a new and valuable waterfront area which will serve as a residential as well as a commercial hub. Again, many experts in real estate also expect this area to be a fresh extension of the Marina Bay due to its proximity to the waterfront.
Suntec City & Marina Promenade – Suntec City is known for its media, telecommunication and IT firms. In fact, this is the very reason why the area is known as something of a Silicon Valley for the locals. Along with the Millenia Towers, Centennial and the Marina Square, this area provides the perfect blend to be called a comprehensive business square. The area features a number of 5 star hotels including the Oriental Mandarin Hotel and The Ritz Carlton, F&B spaces as well as retail outlets.
City Hall & North Bridge Road – The North Bridge Road and City Hall located in District 6 offers a mix of old as well as new buildings. Some of them include Adelphi, Peninsula Plaza and the Raffles City. Many of these locations offer a panoramic view of the F1 track serving as yet another major attraction. Again, the tender for redevelopment of the Capitol Building has been passed which will reinvent the space as a leading residential, commercial as well as arts hub. Another prominent landmark of the area is the Parliament House.
MOVING TO CBD IN THE OUTSKIRTS



Harbourfront, Alexandra Zone(Districts 3 & 4) – The area features Vivocity, the city's largest shopping mall apart from an International Cruise terminal as well as some of the best office spaces in Singapore. In fact, most international companies eye Tower 1 and 2 due to the quality and reputation on offer. Merril Lynch is one of the many of these big names to have set anchor here. Landlord Mapletree conceptualized the structure as a place for "work, live and play" owing to its proximity to Harbourfront MRT and Sentosa. Another feature of the area is the new Business City that has been set up at Alexandra. Major banks as well as financial institutions have set up their backroom operation offices in this area since these do not require an address relating to the CBD. Again, the area still gives a lot of options since it is still quite close to the town area.
Buona Vista, Dover & Pasir Panjang – Buona Vista (District 5) – This area ishome to Singapore's biggest Research & Development (R&D) centres including Biopolis and Fusionopolis which are factions of One-North development. They provide R&D assistance in areas of bio-science, media as well as IT. Apart from this, one can also find F&B components, hotels, retail stores, residential buildings and business parks in the area.

Bugis, Beach Road (District 7) – Those looking for some of the best shopping malls in Singapore will find them at Bugis. You can find a number of office buildings including the Gateway, Golden Mile Complex and Towers, Concourse, Burlington Square, Paradiz Centre, Fortune Centre, the Bugis Junction Towers as well as the Odeon Towers. Walk down Middle Road and you will also find a number of smaller buildings which are well-connected by the Bugis & Nicoll Highway MRT.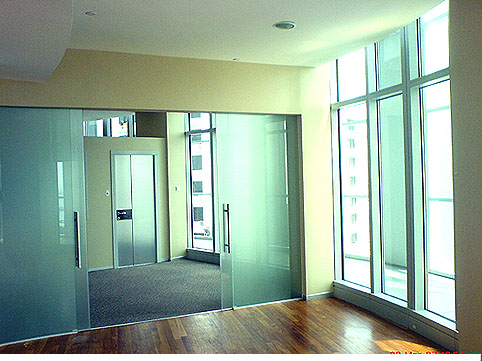 Serangoon Road, Farrer Park & Jalan Besar ( District 8)– Some pre-war shop houses as well as office buildings can be found in areas such as Jalan Besar, Farrer Park and Serangoon Road in District 8. In fact, the area is also casually referred to as "Little India". Companies looking to get away with lower office rent when compared to usual CBD rates find this place to be perfect because it is still close to the town and rather well-connected to various parts of the country. The Farrer Park as well as Lavender MRT ensure that the office for rent lacks no transportation and other facilities.
Orchard Road, Newton, Novena( District 9, 10 & 11) – This region stands out as one of Singapore's premier shopping areas. This is one of the best known office addresses for foreign as well as local companies dealing with lifestyle, fashion as well as retail sectors. The Winsland House, Ngee Ann City, International Building, the Pacific Plaza as well as the Far East Plaza are a few examples of the many new projects to have come up in this area. The area provides easy access to numerous amenities as well as entertainment and F&B outlets. The Somerset, Orchard and Dhoby Ghaut MRT ensure that the area is well served. Some of the most popular office buildings on Orchard Road include the UE Square and the Nearby Great World City.
OTHER POPULAR PARTS OF SINGAPORE FOR OFFICE SPACE
Toa Payoh, Balestier ( District 12) – The area predominantly features residential buildings with several industrial and office buildings also visible in this region. Small medium companies and enterprises prefer this area. Amongst these, real estate brokerage firms and several other similar business firms are most widely visible in this area.
Macpherson, Geylang, Aljunied & Paya Lebar (District 13 & 14) – This area is dominated by a majority of industrial estates. Business occupiers looking for industrial space for production and storage as well as office space prefer this area. Proximity to the town is the major reason for this area being popular amongst those looking for an office for rent.

Bedok & East Coast ( District 15 & 16) – Though this area is known as a residential area, it still has a number of shop house offices and several other office buildings. In fact, Mountbatten features a number of refurbished and renovated office buildings. Again, a number of multinational companies have also set anchor in Bedok Town and Chai Chee Tech Park.
Loyang, Changi Business Park, Tampines (District 17 & 18 ) – The Tampines Regional Centre was initially created to divert excess traffic from the hustling and bustling CBD area. In fact, this area located in the eastern region of Singapore is home to several major banks such as DBS, UOB, Standard Chartered and Citibank who run training centres as well as backroom offices in the region. Again, since due to the presence of shopping centres, F&B, great facilities and transportation as well as several educational institutions, the areas are quite sought after by people looking for an office for rent. Very close to this area is the Changi Business Park. This large business park was only completed recently and provides space for backroom offices as well as R&D centres for several multinational companies and HQs of companies such as Lucasfilm, Credit Sussie, Citibank as well as IBM. The area is well connected to the town as well as the airport. Another feature of this area is the Exhibition Hall and Expo MRT which host several international trade shows. Loyang, which is really close to the Changi airport, has made a name for itself as a logistics hub. Several logistics bigwigs such as UPS, Fedfex, DHL and several other cargo and airline companies are set up in this area. Several other offshore marine service companies as well as aviation companies have also set base here..

Punggol , Upper Paya Lebar, Serangoon ( District 19) – Tai Seng and Upper Paya Lebar areas are home to some great industrial estates in this region located in the north eastern part of the country. The Tai Seng MRT station ensures that the area is well served. Again, numerous residential projects have also made their mark in this area.
Thomson , Ang Mo Kio ( District 20) – The area is home to tech parks handling R&D technology, IT and electronics as well as several industrial estates. In fact, the headquarters for the global giant Apple happens to be in this area.
Bukit Timah & Upper Bulti Timah ( District 21) – This high class residential area features several automobile showrooms, corporate offices as well as landed properties and condominiums.
Tuas & Jurong ( District 22) – This area is home to Singapore's very first and largest industrial estate which was developed by the government based property development agency Jurong Town Corporation (JTC). As an effort to rejuvenate the area, the government also included the Jurong Lakeside in this area. Some of the biggest companies dealing with technology including Acer and Creative Technology have also set up offices at the International Business Park in the region. Another warehousing and manufacturing hub, Tuas, is also located very close to Johor Bahru.
Bukit Batok, Sungei Kadut, Woodlands ( District 23 to 25) – Industrial estates with workshop and warehousing facilities mark the main section of this area. Additionally, Sungei Kadut is also famous for several carpentry and furniture set-ups in Singapore. A few Singapore based F&B and food manufacturing companies are also located in this area.